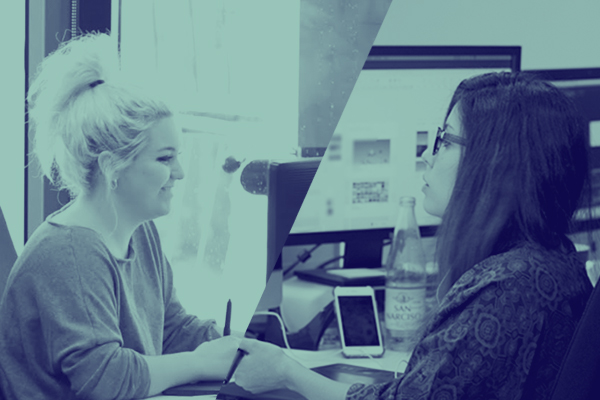 Design is behind more business strategies than we ever could imagine. It's no longer an isolated specialization but it's conceptualized as a core company area that drives and inspires the rest of the business divisions.
There is no better way to portray how the role of design has evolved over the past years than through the words of two young designers who are a representative illustration of a new and highly demanded professional profile. Valeria Aparisi and Lorena Torres discuss design, trends, challenges and the relevance of ongoing training for new designers.
Tell us about your start at the company. Were you a digital profile?
L. My arrival at Telecoming took place one year ago. Initially I did not have a substantially digital profile. However, in a very brief time lapse I have become fully digital aware and that is why I am currently working to improve mobile experiences at Telecoming's UX/UI department.
V. It's been two years since I arrived at Telecoming. Before my arrival I had been working for two companies which were already focused on digital projects, but none of them were user experience oriented. Telecoming has been my UX/ UI school.
Describe the main skills you have developed at Telecoming so far…
L. Among the most useful skills, I would definitely address information architecture, interface design and user flow design as the most helpful skills I have learnt so far at Telecoming.
V. Above all I have learnt to search and apply diverse UX methodologies that enable us to draft user profiles and to deliver the best experiences. Learning is an ongoing race here!
Tell us about your biggest challenge so far at Telecoming…
L. My biggest challenge so far was to design a service exclusively aimed at children. For me it was the first time to create a User Experience targeting the specific needs and skills of kids, whose interactions are driven by different drivers from those assigned to adults.
V. Without a doubt, the biggest challenge has been developing component design from scratch. The project involved numerous teams and we managed to build everything together through an enormous synergy. It was thanks to this challenging experience that I learned the importance of teamwork.
How does Telecoming contribute to your training and skills?
L. Telecoming strongly invests in specialized training programs that adapt to the needs of the different professional profiles. Design courses are a core element for our professional development.
V. Our company places training at the center of our growth as designers and this culture promotes a self-improvement atmosphere which extends throughout the company and that explains our unstoppable growth.

Source: Telecoming ad-tech