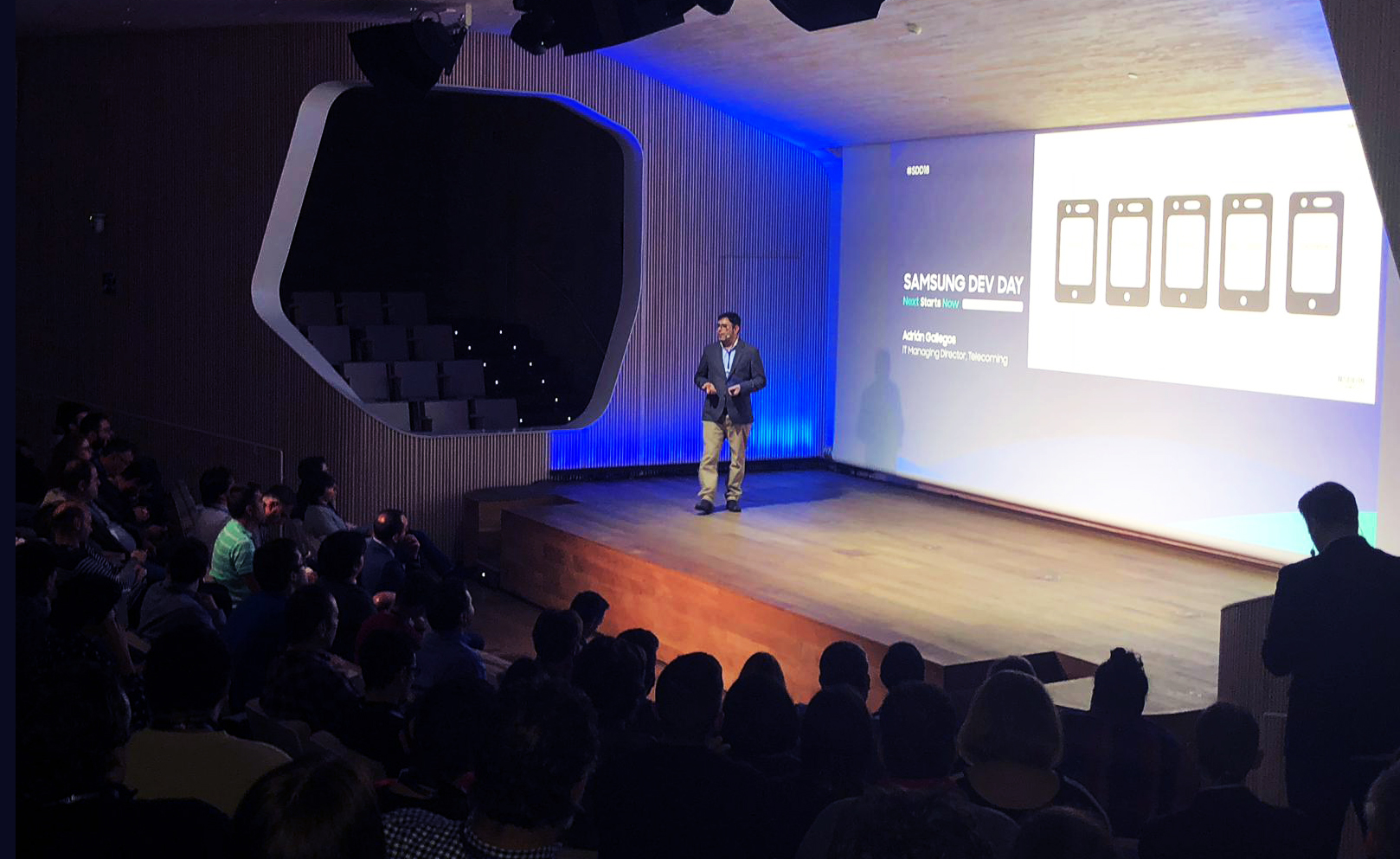 Last week we were invited as a guest speaker to Samsung Developer Day, in its ninth edition, which gathered over 150 attendees at Giner de los Ríos Auditorium in Madrid.
The conference covered a number of differential areas within new technology-driven opportunities adressed at software developers, including Artificial Intelligence, new user experience formats or innovative deployments of tools and functionalities.
Our IT Director, Adrián Gallegos, tackled app monetization formats and covered all technical aspects concerning Direct Carrier Billing within the ticketing industry.
89% of the time users spend on their smartphones belongs to apps. In addition, every day more than 4M app downloads take place in Spain. For this reason, we must pay close attention to the decision-making process during their development. In this sense, the ticketing industry has found in the app universe the most suitable channel to manage ticket purchases.
During the presentation, our IT Director explained the technical aspects and features of the different app monetization options and gave examples for each of them. This was done in order to portray some of the scenarios in which a certain monetization mechanism winds up being more useful than others.
Gallegos explained that "the ticketing market players have found in the app stores the perfect channel to drive purchases. Moreover, the concert ticketing market lately has introduced Direct Carrier Billing as a new payment alternative, exclusively thought for mobile users who search for agile, simple and above all, safe payment mechanisms".
It was an oustanding experience and an honour to share our speaking opportunity with top-tier participants, including David Ngo, Behaviour Design specialist at Stanford University, Javier Palencia, Advanced Technician at Universitat Politècnica de Valencia or César Chaparro Yedro, LaLiga's, Head of Data-Driven Transformation.
We want to thank Samsung for this great gathering and we are looking forward to collaborating with its incredible team in the future!

Source: Telecoming ad-tech